The largest gathering of gaming professionals this year promises to be a superior experience provider.
The leading independent event in Eastern and Central Europe, Balkan Entertainment & Gaming Exhibition (BEGE) which is scheduled
for 20 – 21 November is going to expand the gaming insights to all sectors of the industry and promote once again the mindfulness, obligation and responsibility in gaming. The BEGE's permanent home is Inter Expo Center, Sofia which is conveniently located near the airport and some of the nicest hotels in town.
This year the Еxpo will occupy 3 exhibition halls and when compared to other trade shows globally, BEGE will still be in the top for delivering high visitor and exhibitor satisfaction.
"BEGE has become the benchmark trade show for the Eastern Europe and the Balkan Region", Merkur Gaming said.
The growth year on year has been nothing short of spectacular and the 2019 edition will break more records, advance bookings for exhibition space are at all time high with only a further five months to run. On offer is the ability to participate in an event which has grown in stature and reputation offering a unique platform to promote branding to a targeted audience of industry professionals and decision makers of the highest calibre. So, be at the forefront and utilize this opportunity to its fullest potential and enjoy true and genuine Bulgarian hospitality in this historic and advanced city.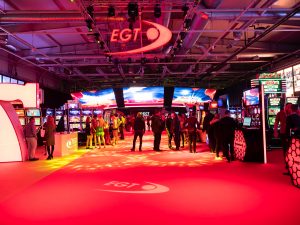 The biggest show in 2018 welcomed 85 exhibitors and over 5000 visitors from 53 countries. This year BEGE expects even more exhibitors and visitor. The ultimate leaders in the industry such as Novomatic, Ainsworth, Casino Technology, EGT, SUZOHAPP, Digitain, Interblock, Merkur Gaming, APEX, Alfastreet Trade BG, IGT, Innovative Technology, Alfastreet Gaming Instruments, Abbiati, Industrias Lorenzo, Fininvest d.o.o., JCM Global, Kajot, Advansys, Zitro, UltraPlay, JPL and many more have already made their bookings. Among the new exhibitors who will come to Sofia to present new trends, developments and innovation in the gaming sector are CTC Holdings, Gambee, Mondo Gaming, RedLark, Ruby Technology, Skilrock Technologies, Winsystems, Sign Maker.
During this year event, every possible sphere of the gaming industry will be covered. A Gaming StartUp Challenge 4.0 under the slogan "Roadmap to Success" will allow other companies with interest in the industry to join the exhibition and during a contest which will take part on the second day 21st of November to present their product or service and make their brand known in the gaming and entertaining business. All start-ups from the gaming and entertainment field can still apply for taking part in the Startup zone and participate in the Gaming Startup Challenge – 4.0.
Along with the excitement of new social activities and networking possibilities, BEGE Awards will come at his best this year honoring individuals and companies for significant contribution and outstanding achievements in the gaming, entertainment and leisure Industries. Once again, the official Award ceremony will be held during the annual glamorous and remarkable BEGE Party.
Set yourself up for the success at Balkan Entertainment & Gaming Exhibition (BEGE) and save the dates in your calendar now for BEGE 2019!
20 – 21 November
Inter Expo Center
Sofia, Bulgaria